Are you afraid to cook fish? I don't mean like you're frightened something will go wrong, but no one likes to buy something to eat only for it to taste terrible. Read this blog to learn how to correctly broil flounder, especially as a novice to cooking fish. The end product will be a tasty lemon garlic broiled flounder!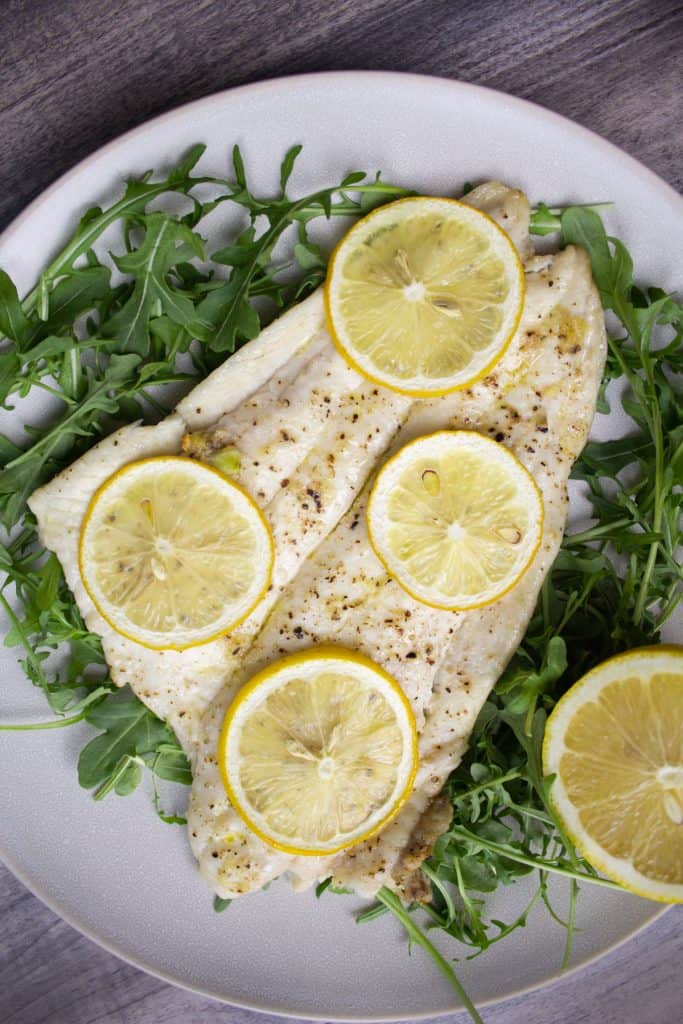 If you're looking for more seafood recipes, check out our pan seared snapper or pistachio-crusted sea bass
The biggest key to cooking fish is knowing when the fish is finished. For a lot of us, fish isn't something we cook every day. It's a spur-of-the-moment purchase or something you do once in a while. So, how do you know when the fish is finished cooking?
Marisa and I are committed to decreasing our meat intake. We're not giving it up, trust me. But there are so many other types of proteins out there and we don't want to miss out on all the other foods by eating chicken every night. So, we've spent the better part of the last year learning how to cook fish, and broiled flounder is on that list!
Flounder is a moist and flaky fish, cooked in under 5 minutes, and has a mild taste that will absorb the flavors of whatever you season with. If you're looking for a fish that doesn't have a "fishy" taste, flounder would be a great fish to try.
Jump to:
How Do I Know When the Fish is Finished Cooking?
If you are just beginning your journey of cooking fish, get yourself an instant-read thermometer. It will be the best purchase you ever make. They're fairly affordable at around $20-$40 and you'll never overcook a fish again.
Most of us have cooked chicken a thousand times and can tell when our ground beef is browned and cooked. But because a lot of people don't cook fish often, it can be difficult to tell exactly when it is done. Flounder doesn't take very long to cook, so an extra 2 minutes can give you a dry, tough fish.
I use my thermometer every time I cook fish because I want it to taste good. I don't want to pretend I can read the flounder's mind and know what temperature it is.
Ingredients
4 flounder filets
1 lemon, sliced thinly
4 cloves garlic pressed or grated
salt
pepper
4 tsp olive oil
Ingredient Notes and Substitutions
There's really not much to substitute here. This is a delicious and flavorful recipe with a few simple fresh ingredients. Here are a couple of points about fish though. Most of my recipes with seafood are using fresh seafood, not frozen. Preparing fresh seafood is a lot easier for beginners than frozen seafood. I recommend you use a fresh flounder or something similar like halibut or striped bass.
Making Lemon Garlic Broiled Flounder
I love this flounder recipe because it is an easy recipe and is quick to prepare. Buy some flounder filets. The fishmonger might have skin on and skin off flounder. Either is fine. The flounder skin is very tasty and nutritious.
Preparing the Flounder
Rinse and pat dry the flounder. Place it on a baking pan and coat the whole fish with olive oil. I like to grate garlic onto the fish and then rub it all over both sides of the filet. Grating the garlic makes it really easy to rub all over the fish. Pressing it would work okay as well.
Season both sides of the filet with a generous amount of salt and pepper. Then top the filet with very thin slices of lemon, to give the filet a hint of lemon flavor.
Broiling Flounder
Preheat the oven to broil. Let it preheat for about 8 minutes before you put the fish in. I know most ovens don't make the sound that lets you know the broiler is preheated, but give it some time so it's very hot before you put the filets in.
Place the tray inside the oven. Broil for 4-5 minutes. Check the temperature of the most petite filet at 4 minutes. Once the filet reaches 145° F, pull it out of the oven. Check each filet's temperature, pulling them out of the oven as they reach 145° F. This will guarantee your fish is moist.
In the 5 minutes the fish was broiling, it went from 34° F to 145° F. Almost 25°F per minute. An extra minute or 2 can completely dry out and ruin the fish. That's why I always use an instant-read thermometer when cooking fish, to make sure I'm serving a moist and flaky white fish.
Serving
Serve the flounder over a bed of arugula with olive oil and a squirt of lemon. Discard the lemon slices on top of the flounder and add fresh lemon for taste. I enjoy flounder with white jasmine rice and arugula salad.
How Do I Reheat Flounder
The easiest way to reheat flounder is to heat it in the microwave in 20-second increments until warm. If the fish was cooked to the right temperature initially, heating it in the microwave will not dry out the fish as long as you bring it back to 145° F. The other option is to reheat by pan-frying both sides in butter until hot. This method adds a little crispness to the edge of the fish.
I have always been vehemently against reheating fish. I have found that the better I cook the fish the first time around, the less likely it is to dry out when reheating. It is always better to eat fish fresh. I won't argue that reheating tastes, "just as good." Now that I use an instant-read thermometer to cook fish, I will reheat fish for lunch the following day. Lemon garlic broiled flounder will stay fresh in the fridge for up to 3 days.
FAQs about the recipe
Is Flounder good broiled
This is one of the best ways to cook a delicate fish like this because it reaches the right temperature (145° F) quickly and doesn't dry out the fish. As long as you are watching the temperature, it comes out perfectly moist.
What should I serve with Flounder?
Flounder goes great with a nice light and fresh salad. Arugula is my favorite! I'd also serve it with green beans or asparagus.
Try Some Other Seafood!
If you're looking for other seafood recipes to try take a look at some of these!
If you loved this flounder, please leave a review below. It goes a long way! Follow us on Instagram and share our recipes by tagging us @vindelgiudice. Most of all, enjoy our recipes with your family and continue to eat homemade foods that provide nutrients to your body!
📖 Recipe
Print Recipe
Lemon Garlic Broiled Flounder
A white flaky flounder broiled to perfection with a lemony garlic burst of flavor. The easiest way to make broiled flounder and takes less than 30 minutes. 4
Equipment
1 instant-read thermometer
Ingredients
4

flounder filets

1

lemon, sliced thinly

4

cloves

garlic pressed or grated

salt

pepper

4

teaspoon

olive oil
Instructions
Preheat the oven to the broiler and lower the rack down to the second lowest tier. Rinse the flounder and then pat dry. Place on a large baking tray to prepare the seasoning.

Use one teaspoon of olive oil per filet (adjusted based on the size of the filet) to coat both sides of the filet. Season both sides of the fish with salt, pepper, and pressed garlic. Top each filet with lemon slices.

Transfer the pan to the oven and broil for approximately 5 minutes, until each filet reaches 145° using an instant-read thermometer. Each filet will cook at different times, and 2 or 3 extra minutes can completely dry out the fish. Using the thermometer and pulling the filets out as they reach 145° will ensure a moist and flaky fish. Serve over greens.