Have you ever tried snapper? Whether you have or haven't this recipe is a great way to introduce yourself to the world of fresh fish. No better way to start than a pan-seared vermilion snapper. It is a mild and juicy fish with firm meat and great for people not looking for anything too "fishy."
We live in North Carolina and visit a farmer's market somewhere each week to pick up fish. Every Saturday night is seafood night at our house. I feel like it's usually Friday night in most families, but we are only able to get out of the house together on Saturdays to get some fresh fish.
This vermillion snapper, and the flounder from our Lemon Garlic Broiled Flounder, which we got from Locals Seafood, a company here in North Carolina. They have great fresh fish and are super knowledgeable about the fish they are selling.
What is the difference between Vermillion Snapper and other Snappers?
Everyone compares vermillion snapper to red snapper in taste. They are both similar in taste and even look the same. Red snapper tends to be larger and carry more meat. They have slightly different shaped tail fins and are generally bigger overall. Vermillion snappers are nicknamed beeliners because of their speed and agility, while red snappers are slightly slower and stronger fish. They both hunt differently, one chasing down their prey and the other ambushing.
Either way, all snappers can be cooked in similar manners. In this case, pan-searing will be the choice of cooking.
Pan-Searing Snapper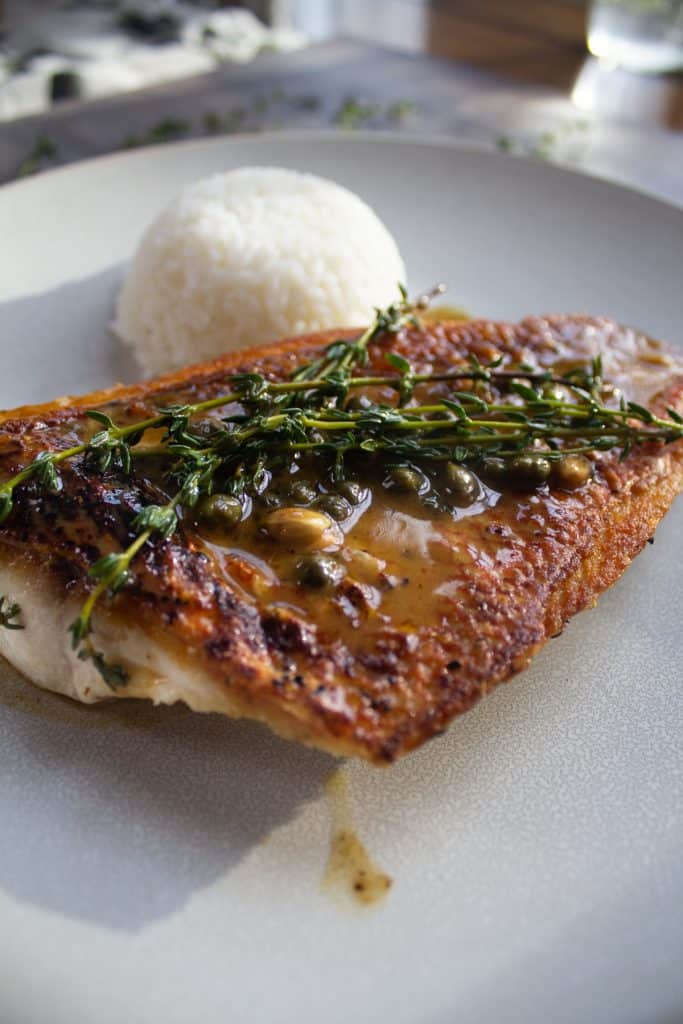 Pan-searing filets of fish is my favorite way to cook fish. I love the crispy skin that develops when you pan-sear. It's perfect for a mild, melt-in-your-mouth fish like a vermillion snapper. This recipe is compatible with any snapper or similar fish.
What you'll need for this recipe
2 filets of vermillion snapper or snapper of choice
avocado oil for searing
Seasoning: salt, pepper, and flour for covering.
Sauce: butter, capers, lemon, thyme, garlic, wine
Seasoning and Dredging the Snapper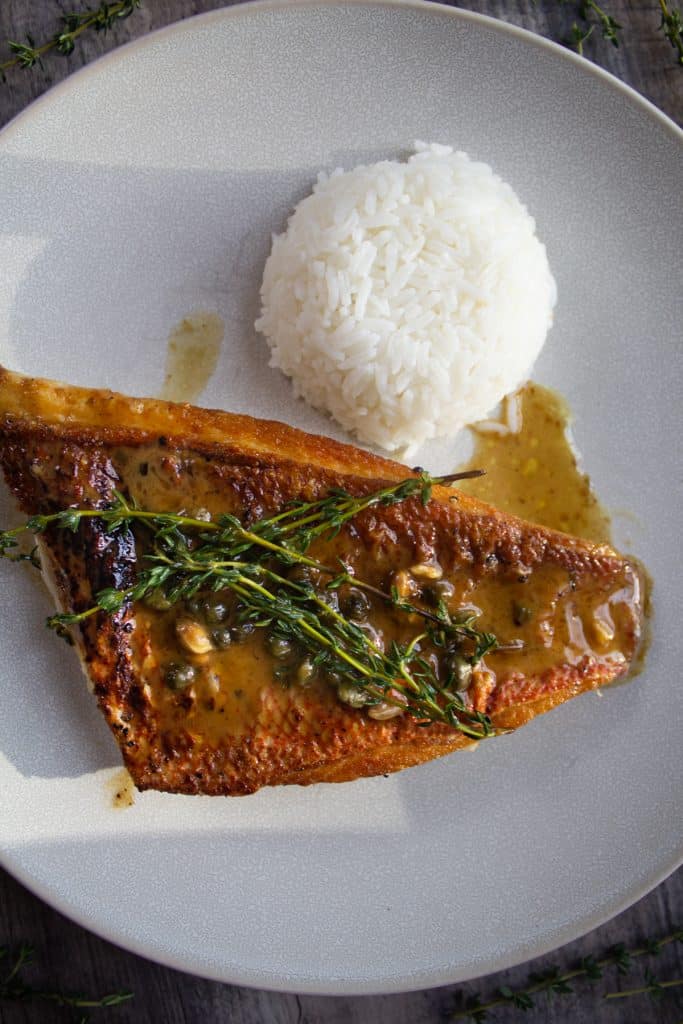 The first step is to pat your fish dry, with paper towels. You pat the fish to dry to make sure when you place it in the pan, there is no extra moisture that will cause it to be steamed while cooking.
Season both sides of the fish with salt and pepper. Then dredge both sides of the fish in flour. The flour dredge is used to keep moisture in during the pan-searing process. It also gives it a nice and crisp outer layer. If you can't use regular flour, substitute it with almond flour or another alternative.
Pan-searing the vermillion snapper
Bring a pan to medium-high heat, preferably one with a heavy bottom. Add 2 tablespoon of avocado oil and wait until the oil is shimmering. When searing a fish, I always start with the skin side down first. This will result in the crispest layer of skin.
Sear the skin-side down first for about 4 minutes. Use a fish spatula to turn the fish carefully to not break it. The fish will be very easy to move off the pan when it is ready to be flipped. If you can't get the spatula underneath the fish because it is stuck, wait 1 more minute before flipping. The skin should eventually release once it is crispy.
Once you flip the snapper, sear it for another 4-5 minutes. I cannot stress enough how important using an instant-read thermometer is with fish. They cook so quickly, so an extra minute or two can really dry out the snapper. I say 4-5 minutes because that's what it took me. I always take the temperature of the fish and make sure it is right at 145 degrees before I pull it off. No more or less.
Let the fish rest for 5 minutes after removing it from the heat. Cutting into it right away releases a lot of the moisture in steam.
Making the Lemon Thyme sauce
Decrease the heat of the pan to medium heat. Toss in the butter and stir until the foam subsides. Then add capers, garlic, and thyme and stir continuously for 15 seconds. The garlic should become fragrant. Squeeze in the fresh lemon juice and pour in the white wine—I used sauvignon blanc.
Reduce the lemon and wine by half, stirring continuously. The sauce should thicken and when a spoon is dragged through it, it should slowly return to the center of the pan, about 2-3 minutes.
Finishing the Snapper with the Sauce
Drizzle the pan-seared vermillion snapper with the lemon-caper sauce. The sauce is the perfect finisher for the snapper. The citrus and thyme combination accents the moist and savory snapper. It soaks right into the snapper and leaves a little extra for rice to soak up.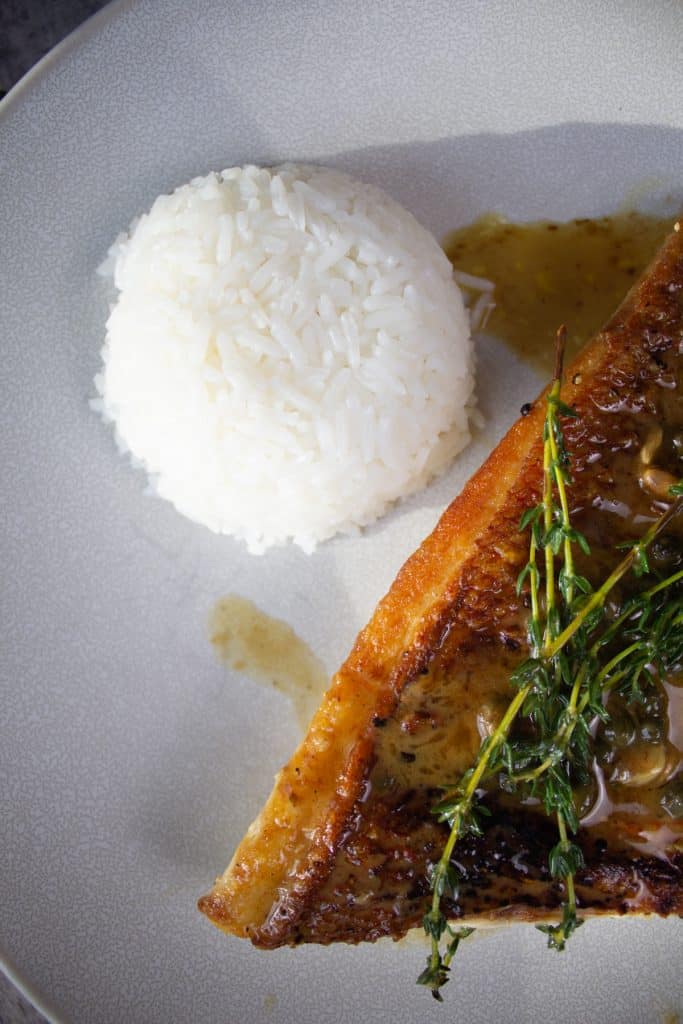 What to serve pan-seared vermillion snapper with?
I love to serve snapper with rice and a vegetable like an asparagus or brussels sprouts. The rice will soak up some of the juices from the snapper and the sauce. This would go great with our Maple Bacon Brussel Sprouts or Pastina Carbonara.
Does Snapper have bones?
Yes, vermillion snapper had plenty of bones. I never know what to expect when I'm eating fish. I'm usually a eat first, ask questions later kind of guy. Definitely eat carefully to avoid swallowing one.
If you love this pan-seared vermillion snapper, try some of our other seafood favorites!
Mussels in Tomato White Wine Sauce
Adding different fish to your weekly meals is a great way to mix it up. Chicken can get so monotonous. I always like throwing in a fish and a vegetarian meal each week. If you love this fish recipe, please leave us a review or comment below! Follow us on Instagram @vindelgiudice.
📖 Recipe
Print Recipe
Pan-Seared Vermillion Snapper
A juicy, firm filet seared to perfection with a lemon thyme and caper sauce.
Ingredients
2

filets

vermillion snapper or snapper of choice

4

tablespoon

avocado oil

2

tablespoon

butter

1

teaspoon

salt

1

teaspoon

pepper

2

tablespoon

flour

1

tablespoon

capers

1

lemon, juiced

¼

cup

white wine

5

sprigs

fresh thyme

1

clove

garlic, crushed
Instructions
Prepare the fish by seasoning both sides with salt and pepper. Then pat both sides with flour.

In a large pan, add 2 tablespoon of avocado oil and bring to medium-high heat. Once hot, lay the filet into the pan carefully, skin side down. Sear for 4-5 minutes or until skin is golden brown. Using a fish spatula, flip the snapper onto the opposite side, and sear for another 4 minutes or until the reaches an internal temperature of 145°. Repeat the same technique for the second snapper filet

Lower the heat to medium. Add butter, capers, and thyme and stir until the foaming subsides. Add in the lemon juice and wine and reduce the liquid by half. Pour sauce over each filet. Serve with rice and vegetables