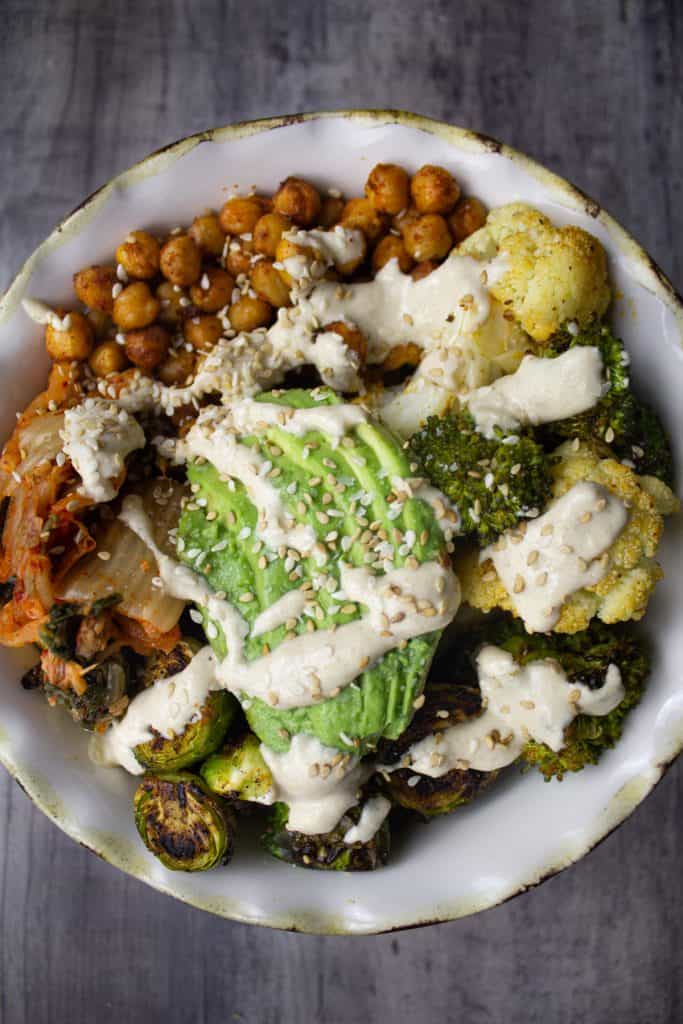 Marisa has to come up with weekly meal preps for her lunch. Of course, we sort of do it together, but she works a stressful job and I like to think of cooking as my act of service to her. It's one of the few things I'm good at. She likes to eat a really healthy lunch in case I make some crazy pasta for after work. The roasted chickpea veggie grain bowl was her idea and it is an amazing meal prep.
Sometimes we make it for dinner and then have the leftovers for lunch at work. While I work from home 90% of the time, she is at work at the hospital for 13 hours. So, I pack her breakfast, lunch, snacks, and whatever else she might need. She's a strong capable woman don't get me wrong. But everyone likes to have someone do a little caring for them.
I love making this recipe for her because it is so tasty for her but SO EASY for me.
What you'll need for a Roasted Chickpea Veggie Grain Bowl
2 cans chickpeas
1 head of broccoli, 1 head of cauliflower, and 1 lb of Brussels sprouts. Vegetables are basically interchangeable. Sometimes we use green beans, zucchini, or asparagus.
quinoa or grain of choice
Seasonings: paprika, chili powder, garlic powder, onion powder, salt, pepper, and cayenne.
Toppings: Sesame seeds, kimchi, avocado, and lemon tahini dressing.
Lemon Tahini Dressing: ½ cup tahini, lemon juice, garlic clove minced, water
The Chickpeas
I rinse and dry the chickpeas before I do anything. Then pour them into a glass pyrex pan and coat them with olive oil. I don't usually premix the seasoning like I have it written in the recipe. A combination of paprika, garlic powder, chili powder, onion powder, salt, pepper, and cayenne is a great mixture for this recipe. I season the heck out of the chickpeas to make sure they taste really good. Then mix them really well until the seasoning is covering all of them.
Roast them in the oven for about 15 minutes at 425°. They should be crispy when you pull them out of the oven.
The Vegetables
I am the WORST at rinsing veggies. But since I've had a kid, I've been much better about it. Wash all of your vegetables first and then shake out as much water as you can. We used cauliflower, broccoli, and brussels sprouts.
The vegetables in the recipe can be substituted with whatever you want. We have used asparagus, green beans, sweet potato, and carrots. Anything can work well in this bowl so fill it with as many different vegetables as you can.
Lemon Tahini Dressing
This is a simple, yet delicious dressing. It's so easy and quick to make. Just whisk tahini, lemon juice, minced garlic, and a little water. Add a little extra water to thin out the dressing as necessary.
Lemon tahini dressing goes great on avocado toast, salad, and grilled chicken. It's a great addition to your meal. We get the tahini from Trader Joe's.
Toppings for the Roasted Chickpea Veggie Grain Bowl
We topped this roasted chickpea veggie grain bowl with avocado, lemon tahini dressing, kimchi, and sesame seeds. I love this combination, and I've really grown to love kimchi.
Other toppings that would go great on this boal would be chopped cherry tomatoes, cucumber, tabbouleh, sauerkraut instead of kimchi, or olives. I'm sure other toppings would go great with this dish, but this is what I have tried so far.
Grains
I really like quinoa for the bowl because it's light and mixes well with the tahini. I've also had this same dish with bulgur and farro and both are great options. Rice or barley would also be great options.
Don't skip on the grain! It brings all the vegetables together and fills you up. When I make my wife's salad for work, I put quinoa in it to make sure she has enough calories. I don't know just vegetables are never enough calories for us to stay awake.
Meal Prep
The roasted chickpea veggie grain bowl is a great, nutritious, way to make premade lunches from scratch. Our family is all about eliminating as much processing as possible. Sometimes that isn't always possible. But for us, it's just important that we try.
It definitely takes a lot of our time to always meal prep. We eat out at restaurants maybe once a month. Most of what we eat is made at home, always from scratch. It's a way for us to save money and enjoy each other's company. Most of our days are spent in the kitchen. Some people might hate that, but I always enjoy standing in the kitchen with a knife in my hand and my fingers smelling like garlic.
Pick one day a week to meal prep 6 meals. Keep it simple. Don't try to do too much in one day. That's when you cook all this great homemade food and then decide you have to go out because you can't look at the food you just cooked!
If you're looking for some other meals that could be great for adding to your meal prep, try some of these:
Crispy Italian Chicken Cutlets
If you are enjoying these recipes, please leave us a review to let us know what you thought! It goes a long way for us to know you are enjoying them! Follow us @vindelgiudice on Instagram!
📖 Recipe
Print Recipe
Roasted Chickpea Veggie Grain Bowl
An easy and affordable vegetarian grain bowl for meal prep. Makes as much as you need for a week!
Ingredients
2

cans

chickpeas, rinsed

1

head

broccoli, rinsed and stalked

1

head

cauliflower, rinsed and stalked

1

lb

Brussels sprouts, rinsed and halved

1

cup

quinoa or grain of choice

2 ½

tablespoon

paprika

2

tablespoon

chili powder

2

tablespoon

garlic powder

1 ½

tablespoon

onion powder

2

teaspoon

salt

2

teaspoon

pepper

1-2

teaspoon

cayenne pepper

2

tablespoon

sesame seeds

1

cup

kimchi

¼

cup

olive oil

1

avocado
Lemon Tahini Dressing
½

cup

tahini

2

tablespoon

lemon juice

1

clove

garlic minced

2

tablespoon

water
Instructions
Preheat oven to 425°. Mix all of the seasonings together in a bowl except for the sesame seeds.

In one pan, place all chickpeas, and drizzle with olive oil. In a separate pan, place broccoli and cauliflower and drizzle with olive oil. In the last pan, place all brussels sprouts and drizzle with olive oil. Season all your vegetables and beans with the seasoning mixture.

Roast in the oven for 15-20 minutes. Cook grain as per packaging and set aside. Whisk lemon tahini dressing ingredients together.

In a bowl, add grain and then add vegetables, beans, kimchi, avocado, and lemon tahini dressing. Top with sesame seeds.