The seven fish of Christmas Eve was something I wasn't introduced to until I married Marisa. We didn't eat fish in our house, because nobody would eat it. I don't know if any of us even tried fish until we were adults. My dad would try to convince us to suck down a raw clam, but for the most part, we were a fish-free house, besides the occasional fish stick or shrimp cocktail.
Here are the seven fish we decided on for Christmas Eve this Year!
Mussels in Tomato and White Wine Sauce
Since I've been married we've been incorporating more seafood into our diet. I love that it adds something to the menu besides chicken or beef. I can't eat that much red meat, and chicken just gets boring after a while. But there are a million different kinds of fish and varieties of preparation. Seafood is one type of food I could never be sick of because there are so many different kinds to try and enjoy.
This year I compiled a menu of 7 different seafood varieties that we had leading up to Christmas Eve. We won't have them all on Christmas Eve, because there just aren't enough people to warrant making 7 different recipes.
---
Shrimp Fra Diavolo is an all-year-round recipe for me. It's an easy recipe for the holidays because you can make a lot of it in the same amount of time you can make it for 4 people. This is the only spicy recipe we prepared and it will be on our menu of seven fish for Christmas Eve this year.
I always like to include something spicy on the menu. Usually, it is mussels fra diavolo, but this time we did it with shrimp over pasta and I'm glad. This is one of my new favorite recipes.
---
This isn't the most traditional Christmas Eve meal. This is more of a quick midnight snack type meal for after you get back from that walk with your cousins if you know what I'm saying. Don't let the anchovies frighten you. Garlic Anchovy Pasta is so unbelievably addicting, you'll eat the whole pound of pasta.
I'm glad I started cooking with anchovies this year. It wasn't something I'd always done. With the Always From Scratch website, I'm trying to really cook from my "Italian" roots. My wife's family is from Italy, but I'm 3rd generation American. I grew up on Italian-American food, but have really been loving Italian seafood recipes lately.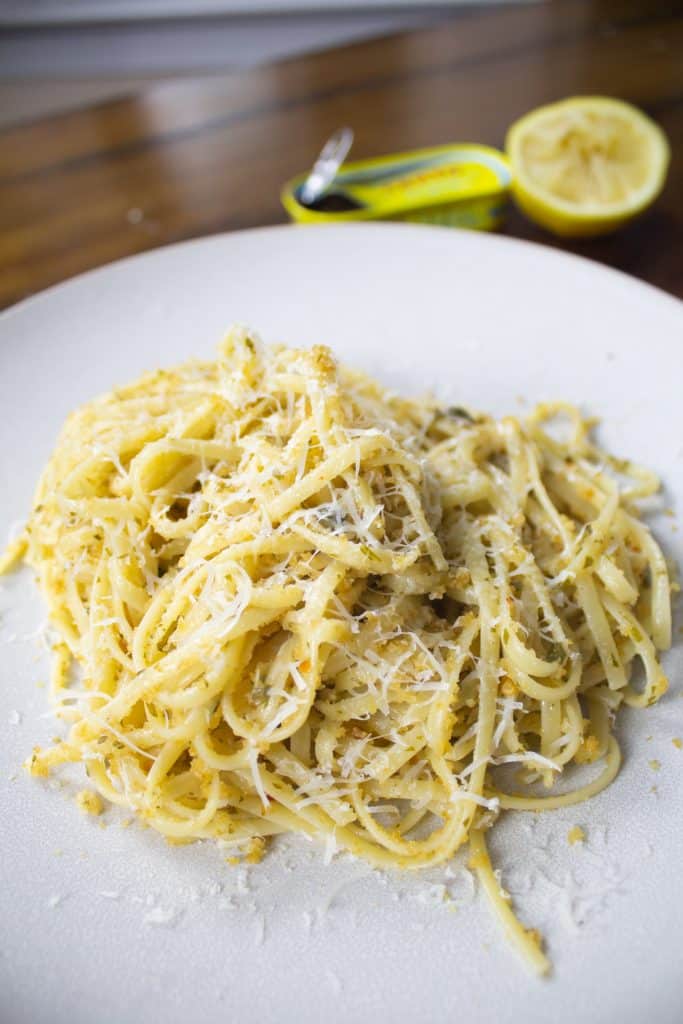 ---
This is such a classic recipe for the holiday. Everyone should know how to make Linguine with Clams. It's something you can have on hand at all times if you keep a couple of cans of clams in the lazy Susan.
This recipe is unbelievable with fresh clams, but when we need a quick dinner, I make it with just the can and it is a great 30-minute meal. Love this for Christmas Eve because it's a family favorite and fills people up!
---
Scallops are one of my favorite creatures of the sea. Searing scallops with some fresh herbs and garlic is a great appetizer for Christmas Eve. Scallops are also high in lean protein, so people don't need a ton of them to feel full. Although I could definitely eat 15 of them.
Add these to your seven fish for Christmas Eve feast if you're looking to try something a little bit fancy!
---
Everyone always has a shrimp cocktail at their house for the holidays. But they usually pick it up at the supermarket an hour before everyone arrives. Then once it's defrosted it is like tasteless rubber.
This is the best homemade shrimp cocktail. It can be made 2-3 days in advance of people arriving. The shrimp is boiled in a lemon beer stock and seasoned heavily. The cocktail sauce is just the pièce de résistance.
---
Baked clams are another appetizer plate that can feed a ton of people. They can be made in less than 30 minutes if you have your fish monger shuck them for you.
It's really fun to shuck your own clams. It makes me feel like "the man of the house," as dated of an idea as that seems. Just taking my shucking knife and getting in there with it. But it is a giant pain in the ass. So make your life easier get them shucked the day of and you'll be happier for it.
---
Mussels are an all-time favorite of mine. They were a staple at every single family gathering at my house. It's my mother's favorite seafood. Even my 1-year-old son had a couple of them this week.
This tasty mussels recipe goes great with a giant loaf of Italian bread and is a great choice for the final fish of the seven fish for Christmas Eve.
---
I love tradition. It's great to do thing that our older generations have always done. But, I'm also a big proponent of making our own traditions. So, on Christmas Eve, we don't have the frutti di mare like a lot of traditional Italian families might have, we do some more modern dishes like these above.
But we try to add a little tradition from both of our families each year. My family has always done stromboli on Christmas Eve and Marisa's family has always done seafood. Do whatever works for you. Find your traditions. You don't have to perpetuate a family tradition if it doesn't work for you.
Modify and move on. Your kids won't remember every exact thing you do, just like you don't remember every meal you had on the holidays. Just be there with your family. That's the only thing that matters. Well, it doesn't hurt to have some fresh Shrimp Cocktail and a bloody mary either.