We all need a go-to recipe when the kids are going crazy, you have a hundred things to do, and you need to get a meal on the table. 15-minute spaghetti with garlic and oil my mom made us at least 100 times when my brothers and I were growing up.
There are a few different ways to make this recipe but to get a 15-minute spaghetti with garlic and oil, I want to use the least amount of ingredients. The only ingredients you NEED are spaghetti, garlic, oil, and salt. And if you want to be a little fancy, you can add parsley, fresh parmesan, and cracked black pepper.
We are food bloggers, so we spend a little more time in the kitchen than your average person. But most of the time we spend in the kitchen has to be when our son is asleep, or one of us is with him and the other is in the kitchen. Spaghetti with garlic and oil is something I can make while he's holding onto my leg. If we need food on the table quickly, spaghetti aglio e olio it is.
Here are the Simple Ingredients for Spaghetti with Garlic and Oil
9 cloves garlic, sliced
¼ cup extra virgin olive oil
1 pound spaghetti
1 tsp kosher salt
Fresh chopped parsley, garnish
grated parmesan
cracked black pepper
1 teaspoon crushed red pepper
Substitutions
This is such a simple recipe that there isn't much to substitute. One thing that most people add to their spaghetti with garlic and oil is crushed red pepper. I usually leave this to add in after. Everyone in our household has vastly different tolerances for spicy. I can't eat anything spicy without getting uncontrollable hiccups. I love spicy but I hate hiccups. So, add crushed red pepper as you see fit.
The 15-minute Process for Spaghetti with Garlic and Oil
First, we are going to start by getting your water boiling. While the water is heating up you'll get out some fresh garlic.
Start by slicing your garlic thin. You want to get your garlic as thin as you possibly can, so use your sharpest knife and make those cuts like you are using a razor blade. Don't prepare the garlic ahead of time, because the longer it sits out after being cut, the more potent the smell will be.
Add your pasta to the boiling water. While the water is heating, bring a frying pan to medium heat. Add extra virgin olive oil to the pan. When there are exactly 3 minutes left until the pasta is ready, add your garlic to the pan. Saute the garlic for about two minutes. Watch to make sure it's not burning. Stir it often. If it starts to burn, grab some pasta water from the pot and slowly add it to the mixture. The garlic should have a light brown edge when complete.
After about two minutes, when the garlic is very fragrant, add the spaghetti. Use kitchen tongs to collect the spaghetti and add it right to the pan. Don't strain it. Stir the spaghetti vigorously in the pan. Stir until the pasta starts to look like it has a thin layer of cheese on it, about 2-3 minutes. Don't add cheese. You just want it to look like it has cheese on it. Add an extra spoonful of pasta water one at a time until it is completely absorbed and the pasta water and oil are homogenous and the oil isn't separating.
Once it's ready, it should look the slightest bit creamy. The oil shouldn't be separating from the pasta water. Remove the spaghetti from the pan and salt, pepper, parsley, and/or parmesan if preferred. Just like that, you have a 15-minute spaghetti with garlic and oil.
Variations to the Spaghetti with Garlic and Oil
There are so many things you can do to dress this dish up a bit. One of my favorites to add to the garlic mixture is anchovies. It brings a salty and savory taste to the dish and gives it a more intense flavor. I realize a lot of people have mixed feelings about anchovies, so another option is lemon! Add a squirt of lemon juice after you've added the spaghetti to the pan for a refreshing flavor.
Occasionally, I'll add a little crushed red pepper to the garlic mixture if I'm looking for something a little spicier. The crushed red pepper gives the spaghetti with garlic and oil a little kick.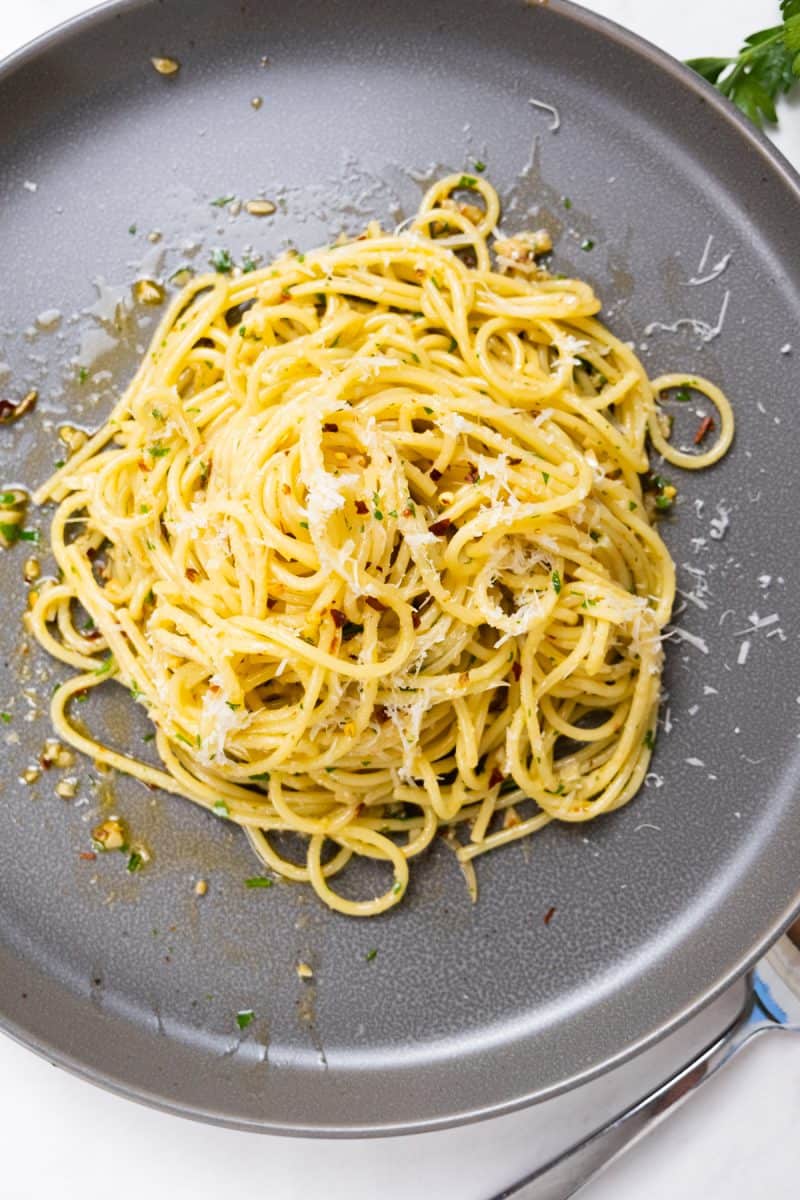 Another option instead of using pasta water is to use chicken broth. Both Marisa's and my mother used to make it this way. Add 1 cup of chicken broth to the garlic when it is starting to brown and bring it to a simmer. You can strain your pasta and then add it to the pan. This option ends with a thinner sauce. I prefer the way that I cook it now but some people prefer a lot of sauce, especially if they like to dip their Italian bread!
How to reheat Spaghetti with Garlic and Oil
The best way to reheat this dish is to add a little olive oil to a pan over medium heat and add your spaghetti to the pan. Toss the spaghetti until it is the desired temperature. Add extra olive oil as needed.
Next time you're in a pinch and you need to get something fresh on the table, try our spaghetti! A 15-minute spaghetti with garlic and oil is a crucial recipe for new parents.
Give us a follow on Instagram @vindelgiudice or on Tiktok @alwaysfromscratch. Leave a review here to let us know what you thought! We love hearing about how our recipes helped your family or made your tastebuds feel!
In the meantime, check out some of our other QUICK and EASY recipes for family weeknight dinners!
Simple Pasta with Eggplant and Tomatoes
Roasted Chickpea Veggie Grain Bowl
📖 Recipe
Print Recipe
15-minute Spaghetti with Garlic and Oil
An Italian staple that you can get on the table in 15 minutes. Spaghetti with garlic and oil is a simple, yet delicious meal that can be on the table in less than 15 minutes. Only 4 ingredients needed, and 3 extra if you want to get a little fancy.
Ingredients
9

cloves

garlic, sliced

¼

cup

extra virgin olive oil

1

pound

spaghetti

1

teaspoon

kosher salt

Fresh chopped parsley, garnish

grated parmesan

cracked black pepper
Instructions
In a medium pot, bring salted water to a boil.

Slice garlic into thin slices.

Add spaghetti to boiling water.

In a large pan bring ¼ cup extra virgin olive oil to medium heat. When there are three minutes remaining to boil the pasta add the garlic to the pan to sauté. Stir often. Sauté the garlic until it turns a light brown on its edges.

When the pasta is finished, use kitchen tongs to pull it right from the pot and add it to the pan. Do this carefully to not cause the oil to splatter. Stir vigorously and slowly add 1 cup of pasta water until it becomes absorbed. Stir for 2-3 minutes or until the oil is no longer separate from the water. Add salt and stir.

Garnish with parsley, parmesan, and black pepper for taste if desired.