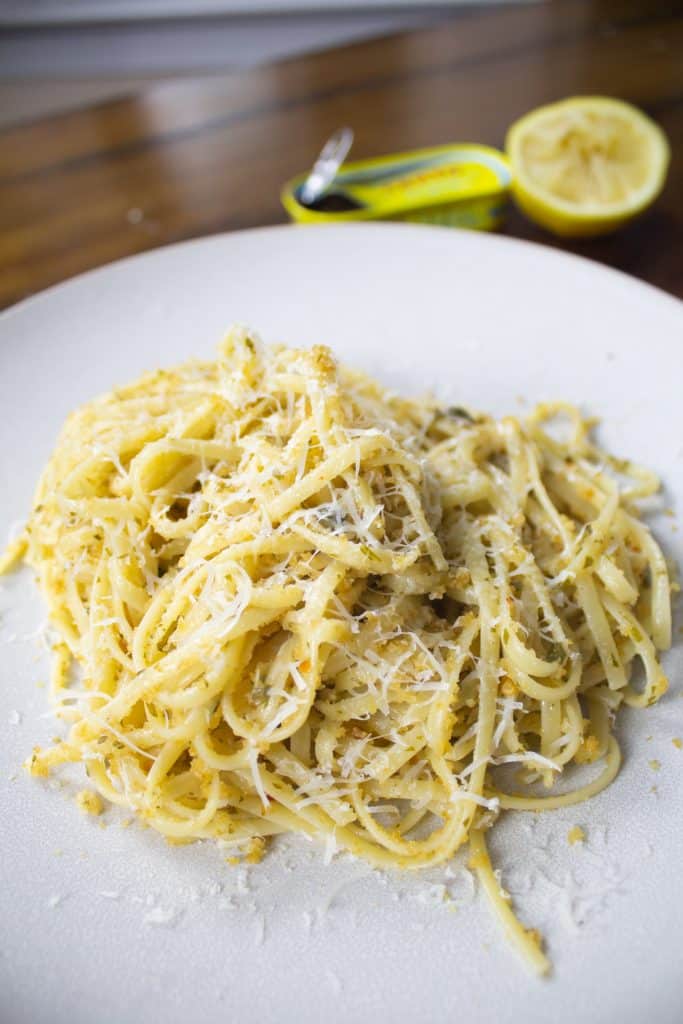 Look, I know what you're thinking. Anchovies? Take a hike. But here's the thing. I'm not the guy that is eating anchovies out of the container. I wanted to make garlic anchovy pasta to prove that not all anchovies are bad. This recipe is NOT the fishy experience you're thinking it might be. Please give this recipe a shot, it's so easy and quick, plus eating anchovies is cool.
Anchovies but not the Taste of Anchovies
You want to tell me anchovies aren't cool? But, you're wrong. Growing up, eating any kind of seafood like anchovies, sardines, raw clams, and oysters was impressive. I hated seafood for years, but I always wanted to try it to impress my dad. And now as an adult, I do like raw oysters. To be honest, I'm not even sure if I like them, but ordering oysters is like walking around with a cigarette, you just feel cool.
But anchovies, I could never eat. There was something about them, that just made me want to die when they touched my lips. My dad would put them on pizza sometimes and I just couldn't handle it. I don't think anyone in my family would eat anchovies besides my dad. Cooking with anchovies is different than slapping them on a homemade pizza.
There is a depth of salty and savory you get from the anchovies that you can't match with simple sea salt. This Garlic anchovy pasta is an homage to all the seafood I tried growing up. I'm still not cool no matter how many raw oysters eat.
Ingredients you will need
Pasta
½ lb linguine or spaghetti
3 tbsp extra virgin olive oil
5 anchovies
5 cloves garlic, minced
1 tsp crushed red pepper
1 tbsp capers
4 tbsp fresh chopped parsley
½ lemon
½ cup white wine
1 tsp salt
½ tsp black pepper
½ cup toasted bread crumbs
Toasted Bread Crumbs
½ cup bread crumbs
2 tbsp olive oil
Why Use Anchovies
These little fish in the tin magnify the flavors of garlic, parsley, and capers. They melt into the olive oil as you saute them with the garlic. The pasta with anchovy is addicting like a salty potato chip. I made this recipe for 2 people because it's a quick dinner recipe you can throw together when you don't have a lot of groceries or for a midnight snack. I ate 2 servings of this the other night. It was impossible to stop eating.
Why Use Toasted Breadcrumbs Instead of Parmesan?
Toasted bread crumbs used to be used in Sicily instead of parmesan because it was affordable and available. Parmesan was expensive and difficult to get at the time. Toasted bread crumbs provide a texture to the pasta similar to the parmesan. Full disclosure: I used toasted bread crumbs and parmesan because I'm a fat mamaluke.
Let's make a midnight snack
Toasting the bread crumbs takes about 5-10 minutes so I would start with that unless you have toasted bread crumbs on hand. Start by bringing a small pan to medium-high heat. Add some olive oil to the pan and once it's hot, pour in some bread crumbs.
You want to stay on top of this because the bread crumbs will stick to the pan if you don't keep them moving. Continue tossing or stirring the bread crumbs every 15-30 seconds until they are browned. Then place them on a paper towel-lined plate to cool. The paper towel will absorb any excess moisture so that they don't stick together.
If you don't make your own breadcrumbs, I always recommend Trader Joe's brand. I find them to be better than Progresso.
Garlic Anchovy Lemon Sauce
Bring a large pan to medium-low to medium heat. We want to work with a pretty low temperature because we want the anchovies to melt into the olive oil and the garlic not to burn, just soften.
While you're heating the pan, you'll want your pasta already boiling in a pot, because we are going to need some of that starchy pasta water so that the sauce sticks to the pasta. Cook the pasta to al dente or just before al dente.
Add extra virgin olive oil to the pan. Then add in the garlic and anchovies and stir for 1 minute until you can start to smell the garlic. Then stir in the capers and crushed red pepper. Stir often and let the garlic soften for about 4-5 minutes. If you think the oil is too hot, remove the pan from the heat so that the garlic doesn't burn. Not burning or browning the garlic is important for this dish because it's a quick lemon sauce that doesn't simmer for hours.
Stir in half of the parsley that the recipe calls for. To make the sauce, pour in the white wine and squeeze in the juice from half a lemon. I always use sauvignon blanc for white cooking wine. While the sauce is reducing, you'll drain your pasta, being sure to save some of the pasta water. Pour ¼ cup of it into the pan and mix the pasta in while it is still hot.
Slowly add in more pasta water as necessary. If the sauce looks oily instead of creamy, you should add more water. Continue stirring while the pan is on the medium-low until the sauce begins to stick to the pasta. Stir in the remaining parsley and toss with the toasted bread crumbs.
Serve garlic anchovy pasta with a giant glass of white or red wine or whatever your nightcap will be tonight.
Give us some feedback!
Let us know what you think of this quick and easy pasta recipe. I know anchovies make us run the other way sometimes, but when you cook with them they can bring out some intense flavors. I promise it isn't a fishy sauce and it will surprise you as a tasty dish you can make when you're in a time crunch or if you are just looking for something flavorful.
Follow us on Instagram @vindelgiudice and Tiktok @alwaysfromscratch.
If you're looking to try some other simple pasta recipes take a look at some of these:
📖 Recipe
Print Recipe
Garlic Anchovy Pasta with Toasted Bread Crumbs
A quick and easy pasta to satisfy every craving. Anchovies melt into the oil giving this dish a salty finish topped with bread crumbs in place of, or in addition to, parmesan cheese. Perfect pasta if you are in a bind for time!
Ingredients
½

lb

linguine or spaghetti

3

tablespoon

extra virgin olive oil

5

anchovies

5

cloves

garlic, minced

1

tsp

crushed red pepper

1

tbsp

capers

4

tablespoon

fresh chopped parsley

½

lemon

½

cup

white wine

1

teaspoon

salt

½

teaspoon

black pepper

½

cup

toasted bread crumbs
Toasted Bread Crumbs
½

cup

bread crumbs

2

tablespoon

olive oil
Instructions
Bring a pot of water to a boil. Add salt and cook pasta to al dente. Save some of the pasta water for the sauce.

While the pasta is cooking, bring a large pan to medium-low to medium heat. Add in 3 tablespoon of extra virgin olive oil. Once the olive oil is shimmering, add garlic and anchovies stirring for 30 seconds to 1 minute. Then stir in the crushed red pepper and capers. Saute at a low temperature until the garlic is softened and the anchovies begin to melt into the oil (about 4 minutes).

Stir in half the parsley. Once combined, add juice from half a lemon and white wine stirring often. It will come to a simmer. Simmer for 2 minutes or until the sauce reduces by half. Add ¼ cup of pasta water. Drain your pasta and add to the pan. Add the rest of the parsley and stir the pasta vigorously to combine. Add more pasta water if the sauce looks oily or begins to separate. Top with toasted bread crumbs to serve
Toasted Bread Crumbs
In a small pan, bring olive oil to medium-high heat. Pour in bread crumbs tossing every 15-30 seconds until browned or "toasty"