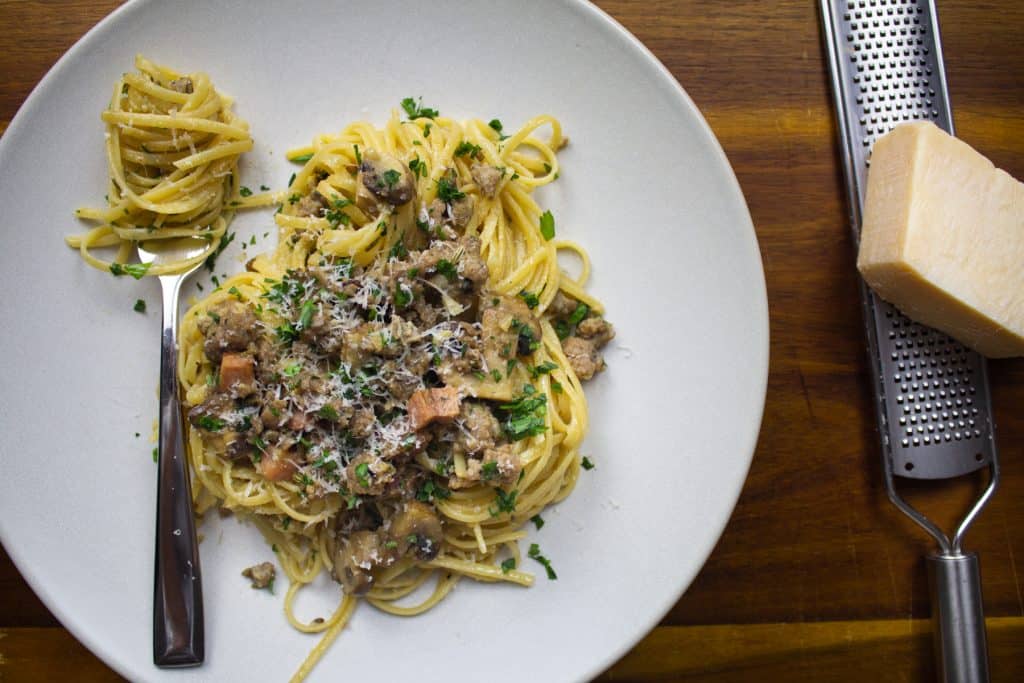 The combination of flavors and aromatics in this dish makes the cooking experience just as satiating as the eating experience. Sage and sausage linguine carbonara combines a classic with some fall flavor. This easy pasta recipe is the perfect comfort food for the fall and winter. Sauces change with the seasons but the one thing that always remains a constant is pasta. In our house, whenever we don't know what to eat, the answer is always pasta.
There are a lot of Fall pasta recipes out there, but I don't think carbonara necessarily has a season. Do I want to sit outside in the 90-degree weather and eat Carbonara? No, but that's why some genius invented air conditioners. So, we can all sit inside and eat pasta whenever we want.
Why we used Sage and Thyme
Sage and thyme make the house smell amazing. Growing up in Italian households, we both remember coming inside from playing with friends and smelling the garlic sautéing on the stove. It's one of those smells that is just ingrained in you. Adding sage and thyme to our sausage mushroom carbonara added another level of depth to the flavor of this savory dish.
Recipe development has always been my favorite part of cooking. I love to take classics and add or change them with different flavors. Some people get really upset when you change a recipe. Italians especially hate when you try to change tradition. I'm not claiming this to be your traditional spaghetti carbonara.
I feel that because different herbs and spices are so widely available now, changing the classics is a way of celebrating our heritage but living in the now. Bacon is more widely available than pancetta, so many people use it in Carbonara.
What Ingredients You Will Need
½ Lb. Linguine
¼ Lb. Pancetta, Chopped One slice of pancetta cut about ¾ inch thick.
3 Cloves Garlic, Minced
2 Egg yolks
¾ Cup Parmesan
¼ Lb. Sweet Italian Sausage
5 Sage Leaves
3 Sprigs of Thyme
4 Oz Baby Bella Mushrooms, Sliced One pack
1 Tbsp Unsalted Butter
Parsley for Garnish
Can I Substitute Bacon for Pancetta?
Short answer: Yes. But, you can't just use thin bacon because it will produce way too much fat and it will be too greasy. If you are going to substitute bacon in this recipe, please use the thickest bacon you can find, and try to use uncured. Don't pick anything that is smoked, maple, or flavored.
How to make Sausage Carbonara
This is a quick recipe and with a little bit of love and care, you'll have a pasta dish with amazing flavors and aromas.
You want to start with frying your sausage. I make a sweet Italian sausage mix the night before and I'll eventually link that recipe here, but you can always use sweet Italian sausage from the store and remove it from the casing or buy it already crumbled.
Fry your sausage in a pan on medium-high heat. I used a cast iron pan because it helps it develop a brown crust. Try to take the sausage out 30 minutes to an hour before you cook it so it's closer to room temperature. This will help it cook more evenly and develop that crust.
Break it up quickly in the pan so that it doesn't steam. You want to cook the sausage all the way through and then remove it from the pan but leave it covered so it doesn't get cold.
Parmesan and Egg Mixture
While your sausage is frying, prepare your egg and parmesan mixture, scrambling egg yolks and parmesan together. Put this to the side and you'll add it in, in a few moments.
Boil your Pasta
Meanwhile, you want to get your water boiling and get your pasta on. Add salt to the water with your pasta of course. You want to add your pasta to the pan as soon as it comes out of the boiling water so it is still hot and will help the egg mixture cook.
Pancetta, Mushrooms, and Garlic
Fry your chopped pancetta in the pan until it becomes crispy with a golden brown color. There shouldn't be any visible translucent fat remaining. Remove the pancetta and set it aside with the sausage
Now, add the mushrooms. They should darken and soften in 5-8 minutes. Add a little extra butter if necessary. While these are sauteing, add in the sage and thyme and stir. When they are almost finished, about 5 minutes, add in your garlic.
The most important part of Sausage Carbonara
This whole next process should take less than 2 minutes but it's the most important part. While your garlic is browning, remove the pasta from the water and strain. Save 1 cup of pasta water.
Add your pasta to the pan with garlic and mushrooms and remove the pan from the heat. Allow it to cool for 1 minute. Toss the pasta and mushrooms with the egg mixture stirring fast to not let the egg scramble. Slowly add the starchy pasta water until you reach the desired creamy consistency. Remove the pasta from the pan and place it in a bowl and mix it with the sausage and pancetta
Garnish with parsley and more parmesan. Enjoy this Sage and Sausage Linguine Carbonara and let us know what you think if you try it!
How to Reheat Carbonara
Reheating carbonara isn't hard but if you don't do it right, you'll be eating pasta coated in scrambled eggs. Start with a ½ tbsp. of olive oil in a pan and warm it on medium-low heat. Once you feel it get warm, add in your pasta and stir often. The key is to get it warm without letting any pasta sit on the stove for too long because then the egg will cook.
Any Carbonara is always better fresh, but I had this sage and sausage linguine carbonara for lunch the next day and enjoyed it all the same.
Is Carbonara Safe if You're Pregnant?
Well, raw eggs aren't necessarily safe for anyone, but we've all eaten our fair share of cake batter and cookie dough. Eating carbonara is the equivalent of eating sunny side up or over easy eggs. So, technically the answer is no, it is not recommended to eat raw eggs when you're pregnant.
Follow us on Instagram @vindelgiudice or on TikTok @alwaysfromscratch.
If you are looking for more creamy pasta, try some of these dishes!
Spaghetti Carbonara Do's and Don'ts
📖 Recipe
Print Recipe
Sage and Sausage Linguine Carbonara
This linguine recipe with sage, thyme, pancetta and parmesan paired with home made sausage will make everything wrong in the world seem right. If you're looking for an easy to make, savory comfort pasta, you found it.
Ingredients
1

Lb.

Linguine

¼

Lb.

Pancetta, Chopped

One slice of pancetta cut about ¾ inch thick.

6

Cloves

Garlic, Minced

2

Eggs

2

Egg Yolks

1.5

Cup

Parmesan

½

Lb.

Sweet Italian Sausage

10

Sage Leaves

6

Sprigs of Thyme

8

Oz

Baby Bella Mushrooms, Sliced

One pack

2

tablespoon

Unsalted Butter

Parsley for Garnish
Instructions
Boil water for your pasta, but don't put your pasta in yet.

Scramble 2 eggs, 2 egg yoks and parmesan in a bowl and put to the side

Bring a frying pan to medium high heat. Fry your sausage until cooked through and remove from the pan and cover.

Add chopped pancetta to the pan. Fry the pancetta until fat is no longer translucent, about 6-8 minutes. Add your pasta to the boiling water when the pancetta is finishing frying.

Sauté mushrooms until they begin to soften, about 5 minutes. Add in garlic and stir.

Once garlic is slightly browned, strain pasta and add to pan. Stir in and remove from heat. Immediately add egg mixture and stir quickly to coat linguine. Then add about half a cup of pasta water and keep stirring.

Add pancetta and sausage back in and stir all together to coat.

Serve garnished with parsley and extra parmesan.
Notes
Make sure to remove the pan from heat when adding in egg mixture, other wise you will end up with pasta with scrambled eggs.