A classic linguine alla puttanesca is a great recipe to have in the proverbial recipe book. It is quick, easy, and delicious. Puttanesca has a long history of history. While some people date the pasta all the way back to the 1700's others say it has really only been around since the 20th century.
The History of Puttanesca
Puttanesca comes from the Italian word "puttana" loosely translating to "whore." There are a bunch of explanations that have to do with prostitutes, like the girls would cook it in between seeing different men, use the aroma to lure men into the brothel, or cook it for men in between sexcapades.
I have to say, these feel like weak explanations all created by some guy who got caught seeing a prostitute by his wife. Imagine the guy talking to his wife, "I swear, I never would have gone into the whore's house, but sweetheart the smell of the sauce was unbelievable. Once I was in there what was I going to do, insult her?" It just doesn't add up to me.
Puttanesca really only dates back to post-World War II Italy. The word puttanata can translate to the English phrase "everything but the kitchen sink." I'm sort of making that up, but that's my understanding of it. There was a chef living in Italy who made this dish for his staff. He didn't have a lot of ingredients left to make "una puttanata qualsiasi," or "any kind of garbage." So, he ended up making puttanesca sauce, by accident. I'm sure he was a great chef nonetheless. So, this is how we ended up with puttanesca.
Ingredients (and substitutions) for puttanesca
Linguine (or spaghetti)
Chopped kalamata olives (or black gaeta olives)
Anchovy filets, chopped (I wouldn't sub out anchovies, even though you want to pretend you don't like them)
Cherry tomatoes (or a can of crushed tomatoes)
Capers
Tomato paste
Salt
Garlic
Crushed red pepper (or chopped calabrian peppers)
Olive oil
Cooking Method for Linguine Alla Puttanesca
Puttanesca is named after "whatever garbage we have left" as we discussed earlier. Sub out what you need to. Try to stick to the base ingredients and adjust as needed.
Desalting Capers and Anchovies
Place capers and anchovies in small separate dishes filled with water. Let them soak for 5 minutes. This will let a lot of the salt out of both of the ingredients. For the capers, it will decrease the salt and vinegar taste and bring out the aromas and flavor of the caper itself.
I like this process because I like to control the salt content in the food. Capers and anchovies can be very salty and can throw off the taste of the whole dish. You don't have to desalinate the capers and anchovies, but if not, taste your sauce often to make sure you aren't adding too much salt.
Making the Puttanesca
Heat a heavy-bottomed pan to medium-high heat. Add olive oil and once it begins shimmering, add garlic and crushed red pepper. Stir often until the garlic becomes fragrant. Then add in the tomato paste and anchovies and spread out on the pan until it begins developing a bit of a crust, about 1-2 more minutes.
Developing the tomato paste is really important. It adds an intense and deep aroma and flavor of tomato that adds wonders to any dish.
Stir in the cherry tomatoes, halved. Add a little salt and stir frequently for 5 minutes. Start boiling the linguine while the cherry tomatoes are breaking down. Use the back of the wooden spoon to break the tomatoes as they begin to soften from cooking.
After 5 minutes, stir in the capers, olives, and a little more salt for flavor and stir. Allow the sauce to simmer for 2 minutes and then transfer in some pasta water. The pasta water will add starch to the sauce and help it stick to the linguine.
Strain the linguine and add it directly into the pan. Mix for 3 minutes, stirring continuously until the linguine absorbs some of the sauce. It should take on a reddish hue to finish this classic linguine alla puttanesca.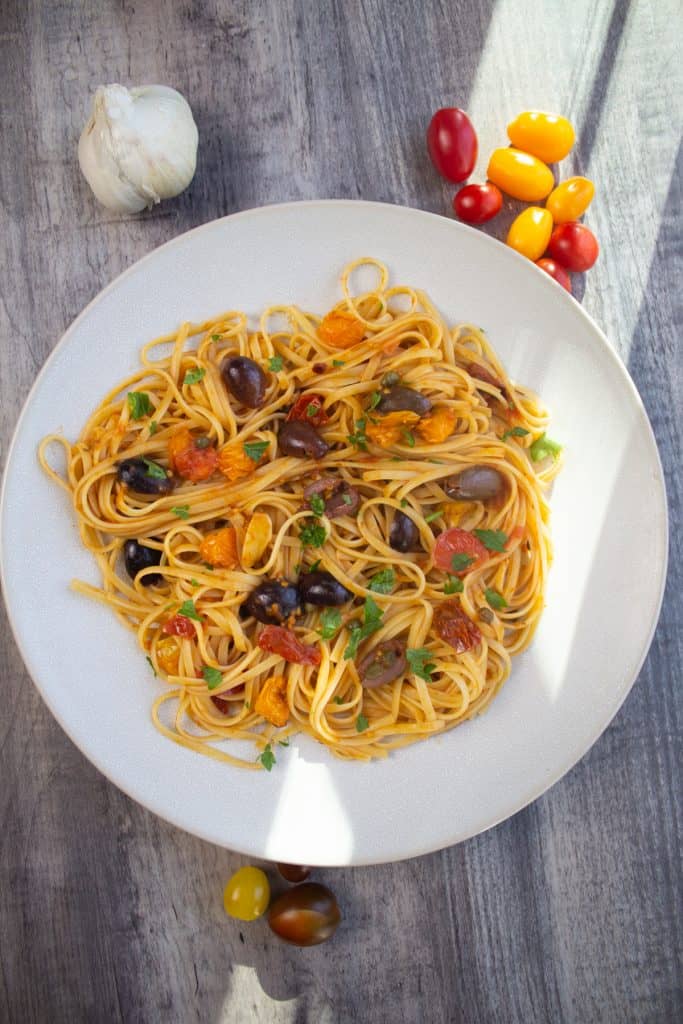 I love puttanesca because it's a light enough sauce to enjoy in the winter or the summer. It's unbelievably simple but that is the amazing thing about Italian food. The simplicity of high-quality ingredients is what makes Italian food so good. Good olive oil, fresh garlic, and anchovies make this easy recipe taste unbelievable.
I typically don't serve Linguine alla puttanesca with parmesan cheese, but I do garnish it with fresh chopped parsley. To each their own though because I know most people put parmesan on everything. This dish is so flavorful to me, it really doesn't need it. In America, we use parmesan on a lot more types of pasta than they do in Italy. I don't know this first hand because I've never been. But from what I've read, this is true.
If you try our classic linguine alla puttanesca, know that we don't believe we invented this recipe. This is just our way of making pasta in the style of the whore. We hope you enjoy it as well. How likely are you to make this puttanesca?
If you love this recipe, you may also like some of our other pasta recipes:
Garlic Anchovy Pasta with Toasted Breadcrumbs
15-Minute Spaghetti with Garlic and Oil
Shrimp Fra Diavolo with Linguine
📖 Recipe
Print Recipe
Classic Linguine Alla Puttanesca
An easy, but delicious, classic pasta dish that comes from the word "puttana" which translates loosely to "whore" but can mean "whatever" in Italian. "Grab a bunch of whatever we have and throw it in a pot."
Ingredients
1

lb

linguine

½

cup

chopped kalamata olives

8

anchovy filets, chopped

2

cups

cherry tomatoes, halved

3

tablespoon

capers

2

tablespoon

tomato paste

1

teaspoon

salt

7

cloves

garlic, crushed

1

teaspoon

crushed red pepper

2

tablespoon

olive oil
Instructions
Start by desalting the anchovies and capers, by filling 2 small bowls with water, and resting them in the water for 5 minutes.

In a large pot, boil linguine until al dente. Save some pasta water.

Heat a heavy-bottomed frying pan to medium-high heat. Add tablespoon of olive oil. Once the olive oil is shimmering, add garlic and crushed red pepper. Saute both for 2 minutes. Add chopped anchovies and stir frequently for another 2 minutes.

Add in halved cherry tomatoes and tomato paste and stir frequently for about 5 minutes until the tomatoes begin to break down. Next add capers, olives, and salt and stir. Simmer for 2 minutes.

Strain pasta and transfer to a saucepan. Stir until linguine takes on a reddish hue and add ¼ cup of pasta water.

Remove from the pan and serve.